10 Things You Didn't Know You Could Do With Composer
Over the last five years, Composer has changed the way PHP developers work. It figures out which versions of our required libraries work together and installs everything for us, but if that's all you've ever used Composer for, you're missing out. Come learn how and when to use validation, autoload overrides, and other features you've never heard of.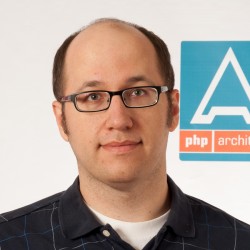 Patrick has been into web technologies since the "bad old days" when animated GIFs were required on all sites and the BLINK tag still had some supporters. He suffered through several years of procedural programming in PHP4 before discovering the glories of OOP in PHP5. Patrick is a Software Engineer at Shutterstock, with experience in Doctrine, Symfony, and several less fun technologies. After hours, he works on supporting the PHP Community and contributing to the Phergie IRC Bot.