Hack Your Home With a Raspberry Pi
Do you ever wonder what's happening at your home when you're not there? Wouldn't it be fun to get a text message when your dryer is done? Using a LAMP stack on a device smaller than a credit card, you will learn to connect sensors to create web-enabled devices to monitor the temperature around your house and more! In this tutorial, you will do all of this on a Raspberry Pi Zero that you get to keep!


Because of the hardware needed (which you get to keep), there is an additional $40 fee to attend this tutorial which must be purchased after you buy your conference ticket.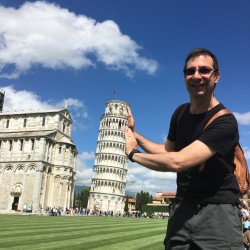 Ken is an IT Programming Instructor at Madison Area Technical College. He teaches intro and advanced programming in JavaScript, Java, and PHP. In a previous life Ken spent a big chunk of his career developing medical device software in C and C++. When Ken is not teaching he enjoys spending time with his family, and roasting his own coffee beans.