TBD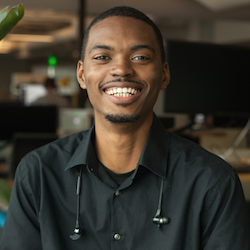 Rodney Urquhart is a senior software engineer at Slack, one of the hottest startups in Silicon Valley. His story demonstrates what perseverance, determination, and a little bit of luck can turn into.
Being a high school dropout and having no college degree, Rodney had his fair share of companies casting doubt on his ability. But his willingness to learn and work well with others was what got him to create an impressive company portfolio including Comcast, Microsoft, and ThoughtWorks.
He didn't just want to survive, he learned how to thrive. Rodney is currently one of the leaders for the test infrastructure team at Slack. He is also part of a program called /dev/color, a non-profit organization that aims to maximize the impact of Black software engineers in the tech space.