Engineering a Successful Career Through Failure!
A lot can be said about my journey in tech thus far! To most people, my background and educational history leave much to be desired. I started from very humble beginnings. In an unlikely story, I went from working at a glass factory to becoming a Software Engineer.

In this session, I'm going to share a little bit about my life and what I've learned over the years. I'm going to talk about where I started, some of my biggest failures, as well as how I used a lot of failure and soft skills to catapult me into the life I'm proud to be living right now. I'm living my dreams! I am successful in every way that matters to me. My family is happy, I'm building wealth, I'm still learning through failure, and most importantly, I'm loving life!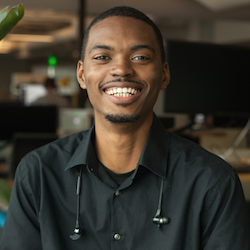 Rodney Urquhart is a senior software engineer at Slack, one of the hottest startups in Silicon Valley. His story demonstrates what perseverance, determination, and a little bit of luck can turn into.
Being a high school dropout and having no college degree, Rodney had his fair share of companies casting doubt on his ability. But his willingness to learn and work well with others was what got him to create an impressive company portfolio including Comcast, Microsoft, and ThoughtWorks.
He didn't just want to survive, he learned how to thrive. Rodney is currently one of the leaders for the test infrastructure team at Slack. He is also part of a program called /dev/color, a non-profit organization that aims to maximize the impact of Black software engineers in the tech space.